06052023_Snyder_HeatheredPewter_BranchKnit_ThrowBlanket_Stack_Carousel_L1_0005_FINAL_BB22.jpg Branch Knit Throw Blanket - Slide 1
06052023_ADAMS_HeatheredPewter_BranchKnit_ThrowBlanket_PulledBack_Carousel_L1_FINAL.jpg Branch Knit Throw Blanket - Slide 2
06052023_ADAMS_HeatheredPewter_BranchKnit_ThrowBlanket_MidDistance_Carousel_L1_FINAL.jpg Branch Knit Throw Blanket - Slide 3
06052023_ADAMS_HeatheredPewter_BranchKnit_ThrowBlanket_Texture_Carousel_L1_FINAL.jpg Branch Knit Throw Blanket - Slide 4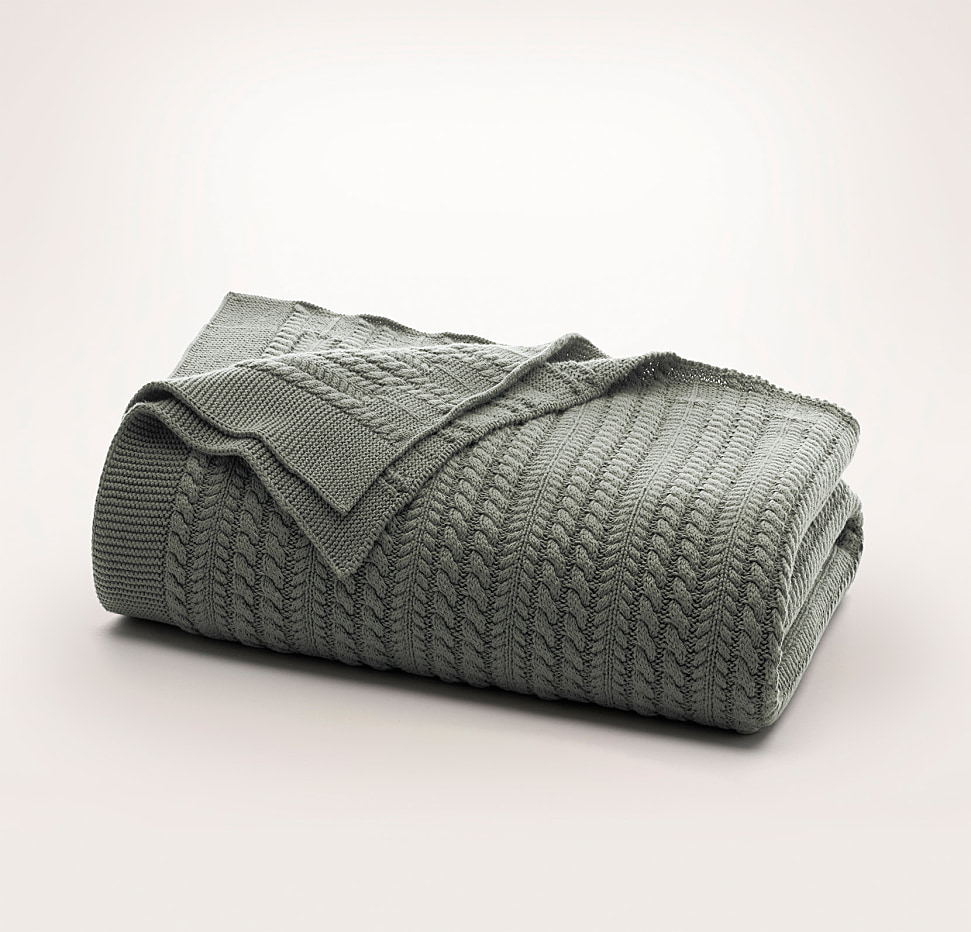 06052023_Snyder_Balsam_BranchKnit_ThrowBlanket_Stack_Carousel_L1_0018_FINAL.jpg Branch Knit Throw Blanket - Slide 5
06052023_ADAMS_Balsam_BranchKnit_ThrowBlanket_PulledBack_Carousel_L1_v1_FINAL.jpg Branch Knit Throw Blanket - Slide 6
06052023_ADAMS_Balsam_BranchKnit_ThrowBlanket_PulledBack_Carousel_L1_v2_FINAL.jpg Branch Knit Throw Blanket - Slide 7
06052023_ADAMS_Balsam_BranchKnit_ThrowBlanket_Detail_Carousel_L1_v2_FINAL.jpg Branch Knit Throw Blanket - Slide 8
What Makes Our Yarn Quality Unmatched?
We invest in yarn quality by using the finest organic materials, knitting our yarns with the utmost care, and finishing our yarns without harsh chemicals.
The Finest 100% Organic Cotton On Earth.
We preserve the purity of our long-staple, 100% organic cotton by choosing not to use any harmful pesticides, GMOs or toxins like formaldehyde in the making of our products. It's better for you and the planet.
Richly Textured, Alternating Design.
Inspired by the beauty of nature, this throw blanket's alternating pattern blends a branch-like knit with a classic cable design. Each yarn is luxuriously woven using fine-gauge yarn for an irresistibly soft hand-feel, complete with hand-finished details.