04252023_ADAMS_Shore_Eyelet_Signature_bundles_Stack_Carousel_P1_FINAL_BB22 (2).jpg The Bethenny Bundle - Slide 1
WhiteEyeletStraightOn.jpg The Bethenny Bundle - Slide 2
Signature Eyelet Sheet in White/White
WhiteEyeletDetail3.jpg The Bethenny Bundle - Slide 3
Signature Eyelet Sheet in White/White
White Waffle Detail.jpg The Bethenny Bundle - Slide 4
Waffle Bed Blanket in White
2021-02-11_Pewter-Eyelet-Sheet-Set-and-Duvet_Dream-Room_Mid_V1_mark-weinberg_0732_FINAL.jpg The Bethenny Bundle - Slide 5
Signature Eyelet Sheet in White/Pewter
2021-02-11_Pewter-Eyelet-Sheet-Set-and-Duvet_Dream-Room_Embellishment-Detail_mark-weinberg_0872_FINAL.jpg The Bethenny Bundle - Slide 6
Signature Eyelet Sheet in White/Pewter
11022021_SetHQA_JanFebCampaign_HeroBed_TexturalWhite_Editorial_MikkelVang_L1_039_FINAL (2).jpg The Bethenny Bundle - Slide 7
Waffle Bed Blanket in Pewter
2021-02-11_Shore-Eyelet-Sheet-Set-and-Duvet_Dream-Room_Mid_V1_mark-weinberg_0732_FINAL (1).jpg The Bethenny Bundle - Slide 8
Signature Eyelet Sheet in White/Shore
2021-02-11_Shore-Eyelet-Sheet-Set-and-Duvet_Dream-Room_Embellishment-Detail_mark-weinberg_0868_FINAL (1).jpg The Bethenny Bundle - Slide 9
Signature Eyelet Sheet in White/Shore
BAB_LinenSheetSet_ShoreWaffleBlanket_Angle_174_FINAL2 (1).jpg The Bethenny Bundle - Slide 10
Waffle Bed Blanket in Shore
Pulled Back-White.jpg The Bethenny Bundle - Slide 11
Signature Embroidered Sheet in White/White
Detail 2-White.jpg The Bethenny Bundle - Slide 12
Signature Embroidered in White/White
ShoreEmboirdered_SheetSet_Lifestyle1.jpg The Bethenny Bundle - Slide 13
Signature Embroidered Sheet in White/Shore
ShoreEmboirdered_SheetSet_Lifestyle2.jpg The Bethenny Bundle - Slide 14
Signature Embroidered Sheet in White/Shore
Pulled Back-Stone.jpg The Bethenny Bundle - Slide 15
Signature Embroidered Sheet in White/Stone
Detail-Stone.jpg The Bethenny Bundle - Slide 16
Signature Embroidered Sheet in White/Stone
Waffle-Blanket_Stone_Texture_Detail_V2_2020-12-16_mark-weinberg_0620_FINAL (2).jpg The Bethenny Bundle - Slide 17
Waffle Bed Blanket in Stone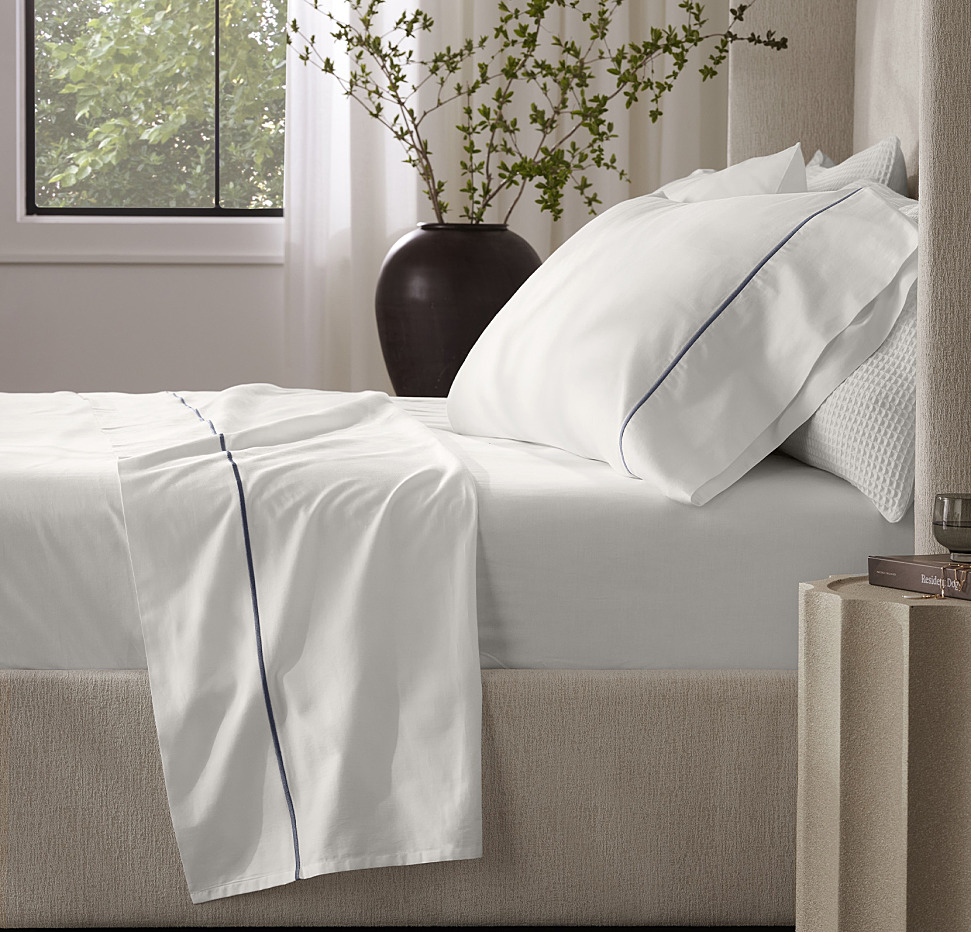 04032023_ADAMS_Mineral_Signature_Embroidered_SheetSet_MidDistance_Carousel_L1_main_FINAL (2).jpg The Bethenny Bundle - Slide 18
Signature Embroidered Sheet in White/Mineral
04032023_ADAMS_Mineral_Signature_Embroidered_SheetSet_FabricDetail_Carousel_L1_v1_FINAL (1).jpg The Bethenny Bundle - Slide 19
Signature Embroidered Sheet Set in White/Mineral
11012022_Q12023_CAMPAIGN_HARMON_Signature Framed Hero Bed_02_2624_FINAL.jpg The Bethenny Bundle - Slide 20
Signature Triple Framed Sheet in White/Pewter
12052022_ADAMS_WhitePewter_Signature_TripleFramed_SheetSet_MidDistance_Carousel_L1_alt_1_FINAL.jpg The Bethenny Bundle - Slide 21
Signature Triple Framed Sheet in White/Pewter
12052022_ADAMS_WhiteShore_Signature_TripleFramed_SheetSet_PulledBack_Carousel_L1_FINAL.jpg The Bethenny Bundle - Slide 22
Signature Triple Framed Sheet in White/Shore
12052022_ADAMS_WhiteShore_Signature_TripleFramed_SheetSet_FabricDetail_Carousel_L1_FINAL.jpg The Bethenny Bundle - Slide 23
Signature Triple Framed Sheet in White/Shore
12052022_ADAMS_PewterWhite_Signature_TripleFramed_SheetSet_PulledBack_Carousel_L1_FINAL.jpg The Bethenny Bundle - Slide 24
Signature Triple Framed Sheet in Pewter/White
12052022_ADAMS_PewterWhite_Signature_TripleFramed_SheetSet_FabricDetail_Carousel_L1_v2_FINAL.jpg The Bethenny Bundle - Slide 25
Signature Triple Framed Sheet in Pewter/White
The Bethenny Bundle
$477 - $671 (Up to $707 Value)
Extra 25% off Bundles with code CYBER25
1. Choose your Signature Eyelet, Embroidered or Triple Framed Sheet Set
2. Choose your Signature Eyelet, Embroidered or Triple Framed Pillowcase Set
3. Choose your Waffle Bed Blanket
Your bundle
$477 - $671 (Up to $707 Value)
What makes this bundle different?
Define your style with one of our hand-finished embroidered designs, all in our bestselling fabric. This 3-piece bundle pairs beautiful detailing on the buttery soft Signature sheets with the airy dimension of the Waffle Bed Blanket. We source the finest long-staple 100% organic cotton on earth and luxuriously weave each thread with meticulous precision.
The Feel Signature – Uniquely soft Waffle – Plush-yet-springy
The Look Signature – Gentle drape with a soft sheen Waffle – Dimensional peaks and valleys
What Makes Our Thread Quality Unmatched?
We don't rely on thread count to determine quality. Thread count is simply a measurement of threads per square inch of fabric. We invest in thread quality by using the finest organic materials, weaving our threads with the utmost care, and finishing our threads without harsh chemicals.
The Finest 100% Organic Cotton on Earth.
We preserve the purity of our long-staple, 100% organic cotton by choosing not to use any harmful pesticides, GMOs or toxins like formaldehyde in the making of our products. It's better for you and the planet.
Our Bestselling Bed Layers, Loved By Millions.
What sets our styles apart is our thoughtful approach to craft: Our iconic Signature fabric's four-over-one-under weave allows the ends of our long-staple, 100% organic cotton fibers to lift ever so slightly with each wash, ensuring an exceptionally soft hand feel that gets softer and softer over time. Our proprietary Waffle weave gives the fabric its breathable, plush-yet-springy dimension with meticulously engineered peaks and valleys.