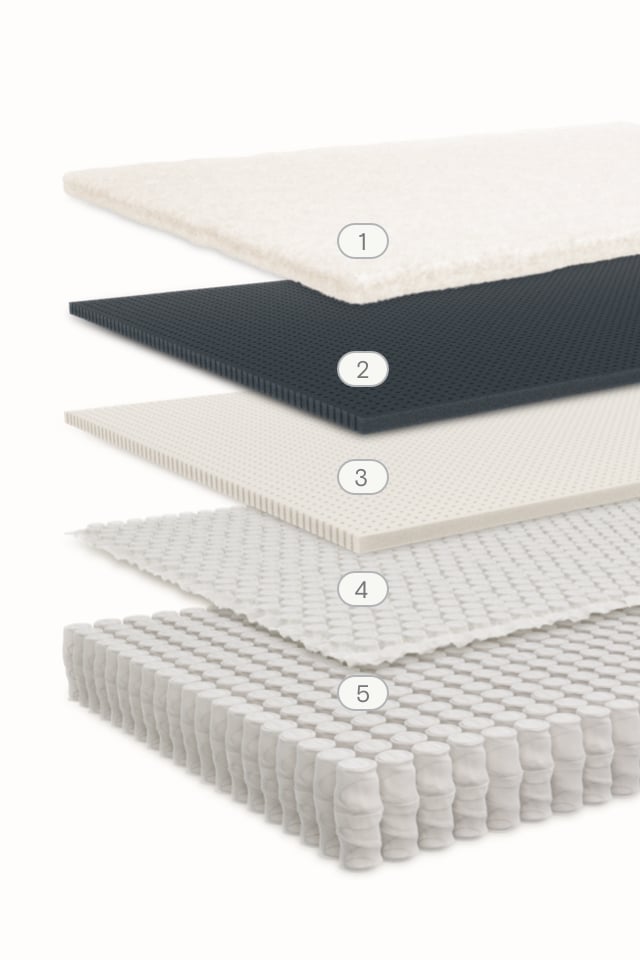 Wool & Poly Blend
Soft, cool, resilient and cozy.

Rather than using foam, we opted for naturally breathable wool, and blended in lofty, resilient poly, allowing it to retain its shape better.

Graphite-Infused Latex
For a cooler, more comfortable sleep.

Graphite, a naturally-occuring mineral with cooling properties, is blended with latex to create an outer layer that disperses heat away from your body, rather than trapping it the way foam does.

Natural Latex
For stability & stillness.

Unlike synthetic foam, Talalay Latex comes from trees. It's durable, biodegradable, and never off-gases. Ours, made in Connecticut, is 7 times more breathable than foam.

Micro-Coils
Soft, cool, resilient and cozy.

Over 2000 of these tiny steel coils go into each mattress, isolating you from your partner's movement while responding to your body's weight, ensuring your spine stays aligned.

Foundational Coils
Soft, cool, resilient and cozy.

These individually-wrapped coils give you precise, isolated support. They're tempered twice for resiliency and quiet, and they're reinforced at the edges of the bed to eliminate that roll-off feeling.

Here for You, from Head to Toe
1
Comfort Zone 1
Soft coils provide pressure point relief, allowing the shoulder to sink.
1/3
2
Support Zone
Firm coils offer reinforcement for the hip and back.
2/3
3
Comfort Zone 2
The same soft coils keep your legs and spine perfectly aligned.
3/3
Read 134 Reviews
The Mattress
We have had this mattress
We have had this mattress for a week now and we love it. When you lay on it you kind of sink in but then you feel very supported. Thank you Boll and Branch!
Luxuriously Supportive! From day 1,
Luxuriously Supportive! From day 1, this mattress has made a difference for both my husband and me. No more waking in pain and soreness. I wake refreshed!
This bed had me very
This bed had me very excited, but it's turned into a monumental disappointment. I'd love to say it's great, but I've been waiting 5+ weeks for delivery, which has been (mis)managed by Ryder. My home is not hard to locate, UPS/FedEx/Amazon etc find it all the time…Ryder seems to not use/have GPS, or map skills, and are absolutely unreachable at any number provided thus far. B&B has been helpful, yet I have no bed and the order is about to be canceled.
Absolutely Perfect
I am very pleased with my mattress. It is absolutely perfect in being super comfortable while supportive and firm. I am no longer achy when I wake up in the mornings and that makes a difference. Simply, I could not be happier.