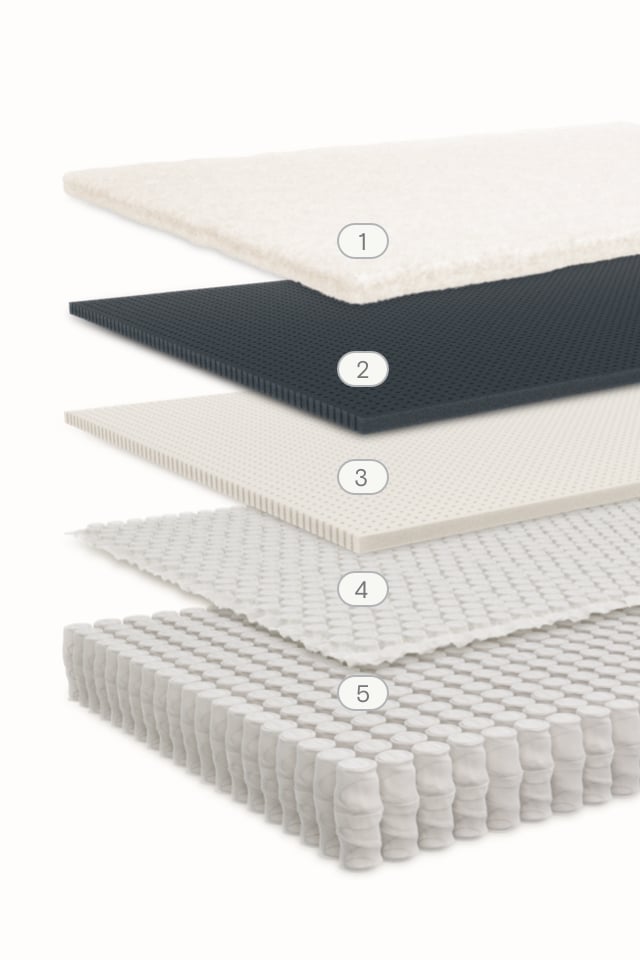 Wool & Poly Blend
Soft, cool, resilient and cozy.

Rather than using foam, we opted for naturally breathable wool, and blended in lofty, resilient poly, allowing it to retain its shape better.
Graphite-Infused Latex
For a cooler, more comfortable sleep.

Graphite, a naturally-occuring mineral with cooling properties, is blended with latex to create an outer layer that disperses heat away from your body, rather than trapping it the way foam does.
Natural Latex
For stability & stillness.

Unlike synthetic foam, Talalay Latex comes from trees. It's durable, biodegradable, and never off-gases. Ours, made in Connecticut, is 7 times more breathable than foam.
Micro-Coils
Soft, cool, resilient and cozy.

Over 2000 of these tiny steel coils go into each mattress, isolating you from your partner's movement while responding to your body's weight, ensuring your spine stays aligned.
Foundational Coils
Soft, cool, resilient and cozy.

These individually-wrapped coils give you precise, isolated support. They're tempered twice for resiliency and quiet, and they're reinforced at the edges of the bed to eliminate that roll-off feeling.
Here for You, from Head to Toe
1
Comfort Zone 1
Soft coils provide pressure point relief, allowing the shoulder to sink.
1/3
2
Support Zone
Firm coils offer reinforcement for the hip and back.
2/3
3
Comfort Zone 2
The same soft coils keep your legs and spine perfectly aligned.
3/3
Read 149 Reviews
The Mattress
Mattress Review
Love my new Boll & Branch mattress! Would highly recommend it to others!
Fantastic Product
Best mattress ever!!! So comfortable and sturdy. Feel like I'm in a luxury resort every night!
It&amp#x27;s probably not really fair
It's probably not really fair for me to write this as a one star because I never received the mattress. We waited a month until we finally received info about our order after I finally got a hold of the Ryder truck company ( after checking in with boll& Branch, three different times), they said they never had us scheduled out because they were waiting on something else from boll& Branch. I said that was incorrect. Then when they went to schedule it it would have been another 2 to 3 weeks. We immediately turned around and canceled the order through boll& Branch. We love the sheets but will never know what the mattress is like. Such a disappointment! However, the refund was almost immediate and I do appreciate that.